Hey there!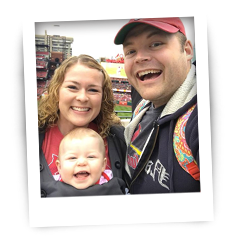 I'm Jordan Aschwege (ash'-wig), I'm from Omaha, Nebraska and graduated from Bradley University with a degree in Multimedia and Graphic Design in December 2009. But more than that, I love movies, playing guitar, video games, spending time with my lovely wife, Jessica, and our lab-mix, Bradley.
The sheer enjoyment I get out of designing came originally as a creative outlet. Initially, I wanted to be an animator for Disney. But over the years, as Disney made the shift to computers, so did I - and I enrolled in a class at my high school for the "technological arts." I realized very quickly that a computer wasn't just a tool for creating media, but a medium itself. The rest, as they say, is history -- I've been making pixels pretty ever since.
Getting down to business
During the fall of 2008, I interned at the Fiesta Bowl for graphic design. There, I designed numerous pieces of work for use in the Fiesta Bowl Museum, various Fiesta Bowl events such as the Blue Cross Blue Shield of Arizona Fiesta Bowl National Band Championship, the Fort McDowell Yavapai Nation Fiesta Bowl Parade, the Fiesta Bowl Queen and Court and yes, the Tostitos Fiesta Bowl and Insight Bowl college football games. It was a great experience, but it also really opened my eyes to the incredibly demanding field of graphic design. It does not matter when or how it gets done -- what matters is when it gets done and if they like it.
After graduating in December 2009, I've worn many different hats in a few short years. I was a graphic designer for Minerva Promotions in Bloomington, Illinois. While there, my concentrations were apparel design using the Adobe Creative Suite and spearheading a more aggressive social media campaign. Later that year, a small-but-powerful media group in Morton, IL, the Iona Group, contracted me to redesign a popular video game, Dance Dance Revolution, for their clients Pioneer and DuPont. I worked as a part of the McDaniels Marketing team, and got some in-house experience working with Illinois Mutual Life Insurance. I even became a teacher at my alma mater, teaching Introduction to Interactive Media.
Presently, I'm a part of the marketing team at Pi Beta Phi Headquarters doing web design and development work on nearly 200 chapter websites, as well as some layout design on the quartely magazine, The Arrow.
more than just a job title
I'm an avid artist. I'll draw just about anything. I've drawn portraits, figure drawings, linear perspective drawings, but I've also drawn comics, cartoons and recreations of Disney characters.
I love almost all sports. Seriously. You can find me on a few sports blogs, and a few select sports design forums. I digress. There are few better feelings than sitting around a tv with your friends, watching a game while you snack on pizza, wings and some beer.
Movies and video games. If it makes you laugh or has an explosion, chances are, I've seen it. Video games, though, are a different story. I play video games the way that most people would read books -- I really enjoy engrossing myself in the plotline of a great game. I'm on Xbox Live (a lot!), so if you'd like to play with (or against me) online, my gamertag is derschwigg - a clever play on my last name.